R • W • F

LIVE

Addon

Update Now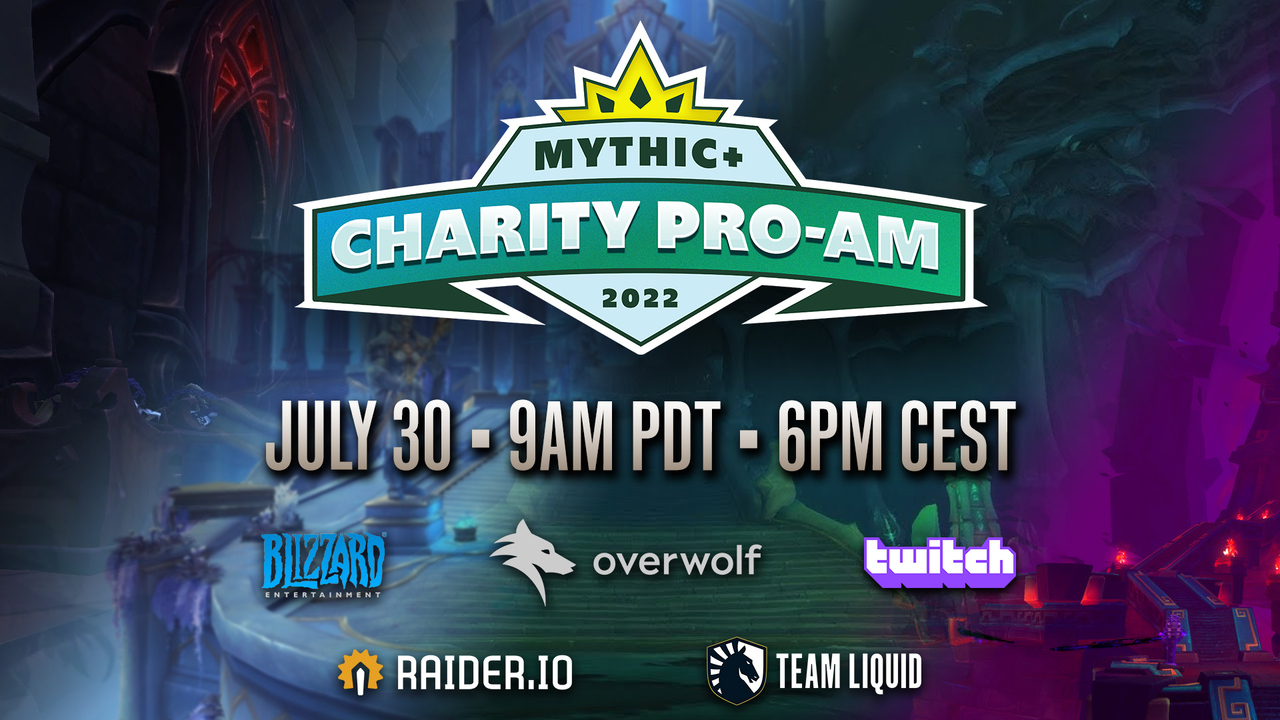 Mythic+ Charity Pro-Am: Amateur Registration
Get a chance to play with the Mythic+ Pros you know & love!
About the Event
The Mythic+ Charity Pro-Am is a one-day competition showcasing 6 teams battling it out for a period of 5 hours, pushing keystones as high as possible. Teams will earn points based on the keystone levels they are able to complete in time for each dungeon in the pool, and the team with the most points at the end of the 5 hour time period is the winner! All runs will take place on the Tournament Realms.
Each team is composed of two professional Mythic+ players, 1 well-known WoW influencer, and 2 amateur players. Teams will be competing under the banner of a non-profit organization working towards initiatives that promote Diversity, Equity, and Inclusion in gaming and the world beyond. The entirety of the prize pool will be going to the represented charities, but the percentage of which will be determined by each team's final placement in the competition!
Event Date: Saturday, July 30th
Event Time: 9am-3pm PDT / 6pm-12am CEST
Eligibility Rules
In order to be eligible, you must meet ALL of the following requirements:
You must have an active World of Warcraft Blizzard account that has been in good standing for at least 6 months.
Your World of Warcraft account must be based in either the Americas/Oceania or Europe Regions.
You must have at least one character on your account that has earned a Mythic+ Score of at least 500 within Shadowlands Season 3.
You cannot have any characters on your account that have earned a Mythic+ Score of 3250 or higher within Shadowlands Season 3.
Your Blizzard and Discord accounts must be synced to your Raider.IO profile.
You must be available for the full duration of the event on Saturday, July 30th to participate, so please do not register unless you are certain you can be there.
Selected players will be announced at 9am PDT on July 18th in the Raider.IO Discord. Players will be pinged in the #pro-am-chat channel, messaged directly by Raider.IO staff, and emailed at the registered contact address. Players will have 48 hours to respond their acceptance of the position. Any players who have not replied by 9am PDT on July 20th will have their spots rerolled.
Raider.IO Score will be validated at the time of registration, so the number of entries you receive will be based on your Score at the time of registration. Keep this in mind if you are on the cusp of the Amateur Score Window!
Registration for the Mythic+ Charity Pro-Am has closed.